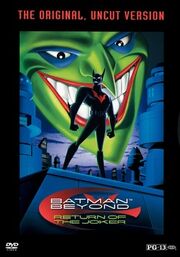 Batman Beyond: Return of the Joker (also known as Batman of the Future: Return of the Joker in Europe and Australia) is a 2000 direct-to-video animated film featuring the comic book superhero Batman and his archenemy, the Joker. It is set in the continuity of the animated series Batman Beyond, in which Bruce Wayne has retired from crimefighting and given the mantle of Batman to high school student Terry McGinnis. As in the TV series, Will Friedle and Kevin Conroy star as Terry McGinnis and Bruce Wayne, respectively. Mark Hamill, who played the Joker opposite Conroy in Batman: The Animated Series, returns in the title role.
Before its release, the movie was heavily edited to remove scenes of extreme violence, and some dialogue was altered, thus creating the "Not-Rated" version of the movie. The original version was subsequently released on DVD following an online petition to have the original version released. It received a PG-13 rating from the MPAA for violence, the first animated Batman film to do so.
Mephisto Odyssey and Static-X contributed the song "Crash (The Humble Brothers Remix)" on the film's soundtrack, along with a music video directed by Len Wiseman featured on the DVD.